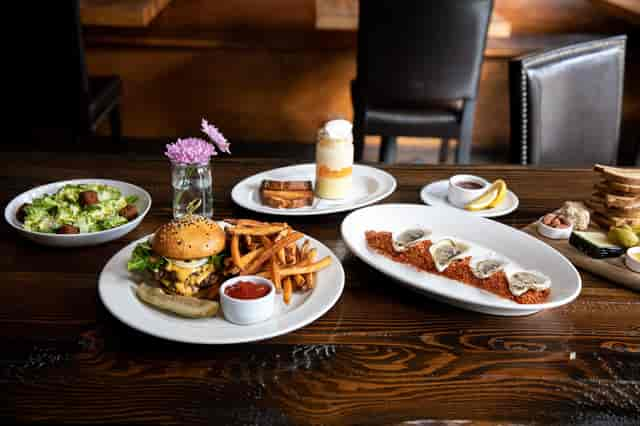 The Kitchen
Steve Gedra
Executive Chef / Owner

The mastermind behind The Black Sheep and the former Bistro Europa, hailing from parts unknown, weight unknown, Steve spent many years honing his craft in Boston, Nantucket, Colorado, and New Mexico. Several trips abroad brought a realization that food is better when it is sourced carefully and handled with passion and integrity. Steve has worked side by side with some of the best in the country, such as Eric Ripert, Thomas Keller and Susan Goin. Steve was nominated for the James Beard Award in 2017, making it to the semi-final round. He was a contestant on Food Network's "Beat Bobby Flay," and while he enjoyed his time on the show, he got his ass kicked by the secret ingredient, cream cheese.
Ellen Gedra
Pastry Chef / Owner

I grew up in Pittsford, NY and started working at Richardson's Canal House when I was 17 as a hostess. I quickly learned what was going on behind the lines was more exciting and interesting to me. I started cleaning lettuce and never turned back. After attending Boston University for elementary education I continued my dream of cooking. I applied for my first real full-time restaurant job as a garde manger cook. I was underqualified, but had a good work ethic and was chosen (in no small part by my current husband) to be hired in the pastry department, as that position did not require much experience. I learned A TON: bread, pastry creams, caramels, and that the best place to cry when you fail is the cooler or the very back corner of dry storage. 

Steve (my husband, business partner, and world) was the sous chef there at the time and we started dating (TABOO I KNOW) shortly thereafter. Our stories are linked after that. We took positions as private chefs in Nantucket for several summers. During the winters, we went to Colorado, New Mexico and stayed in Boston for a few. Then in 2009, Steve got a call that his friend wanted to sell Europa Bistro. We were ready (so we thought!) After four years there we bought our current property in Connecticut. We moved all of our stuff in carloads from Elmwood to Connecticut and set up shop. We have been here since 2014 and hope to be here for a long time to come. We love food. We are passionate about service. We could not do it without the help of our staff, farmers, family, and friends. So, thank you and hope to see you soon.